NEWS
HieYon visits HongKong Academy for Performing Arts to give piano master class on May 3-5.
HieYon will join Artcial International Piano Festival & Competition this summer as a jury & faculty. (Aug 2-5, San Francisco, CA, US)
HieYon served as the president of the jury at Epinal International Piano Competition in France. (March 17-26) The jury included Alvaro Teixeira Lopes, Vardan Mamikonian, Isabelle Dubuis, Konrad Elser, Dina Yoffe, Serhiy Salov.

"We are delighted to welcome Hie-Yon Choi to work with Guildhall musicians in this piano masterclass. One of the most sought-after pianists of her generation, South Korean pianist Hie-Yon Choi ….." (March 13)
HieYon appeared as a guest at <옴브라 마이 푸> Hankyung Art TV in Korea. She talks about her life journey with piano, especially focusing on her teachers.
23.2.16(목) 오후 9시
HieYon will join 2023 Rebecca Pennys Piano Festival as a new faculty (July 12-15, Tampa, Florida, US)
HieYon will join 2023 CIMC festival faculty such as Veda Kaplinsky, Sasha Korsantia, Boris Slutsky, Hung-Kuan Chen, Steven Spooner (July 21-24, Chicago, US)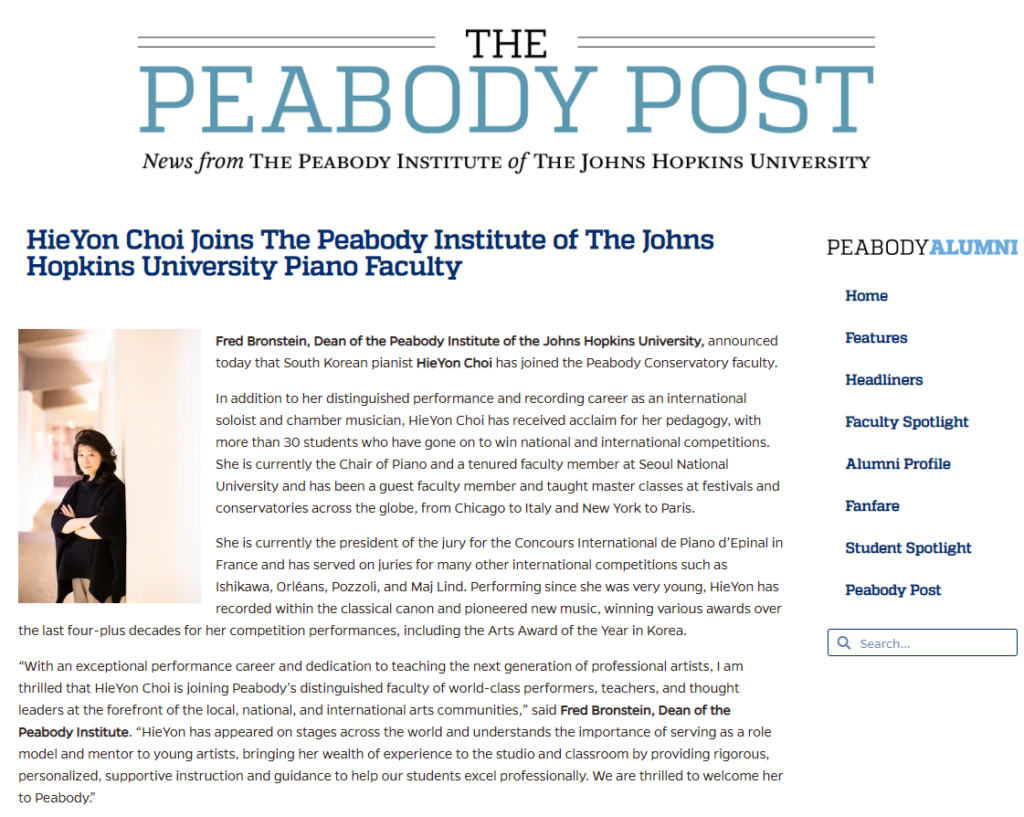 Jan-12-2023
Peabody Institute of Johns Hopkins University (Baltimore, US) announced to welcome HieYon Choi to Peabody faculty. HieYon will join Peabody from this fall.